Bumblebee and the Autobots must protect Sam from the Decepticons!
Featured Characters:
Supporting Characters:
Villains:
Publication Info
Edit
Dimensions: 8" X 8 3/4"
Ages: 3+
10 pages, yet manages to cram in as much plot as Michael Bay
Uses 3 replaceable AG-13 button cell batteries (included!)
Conforms to ASTM F963-03 AND Part 15 of the FCC Rules! Wow!

Bumblebee Rumble is an Interactive "Play-a-Sound" storybook published by Publications International, ltd., Lincolnwood, IL.
It is a retelling of part of the story of the 2007 movie, namely Bumblebee's battle with Barricade.
As the reader progresses through the story, they encounter various icons which indicate they are to press one of the buttons down the right hand side of the book, playing a sound effect.
Trivially Pointless Minutia
Edit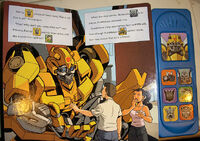 Much like Milton's classic Paradise Lost, Bumblebee Rumble begins in medias res, starting out with Sam on a pink bicycle trying desperately to escape the Camaro that has been following him.
Barricade is described as being 16 feet tall; Shawn Currie seems to enjoy mentioning that particular fact.
Rather than an industrial zone seen in the movie, the action in this case takes place close to downtown.
Mikaela knocks Frenzy out...with her bare hands. Because reciprocal saws are for wimps.
Distribution
Edit
Transformers Play-a-Sound books were available in the US at Kohl's stores.
External links
Edit